LaurusMark Digital-Ready Business Development Methodology
Success in growing sales is the result of clear planning and effective execution. Success also requires the careful coordination of business priorities in investments and people resources to deliver on the plan.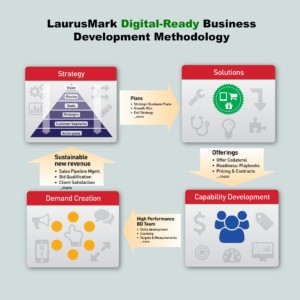 This validated 4-stage  framework developed by LaurusMark is a proven and effective approach to consistent success with a sound business development platform. Each stage of the LaurusMark Digital-Ready Methodology is underpinned by models and tools to ensure effective and sustainable execution.
1. Your Strategy: Develop a sound plan for growing your business
2. Your Offers: Define the solutions that you will take to the market
3. Your Capabilities: Dial-up your sales execution and leadership capability
4. Your Demand Creation: Execute campaigns on the target customers